FLOWER FRIDAY // Australian Paper Daisies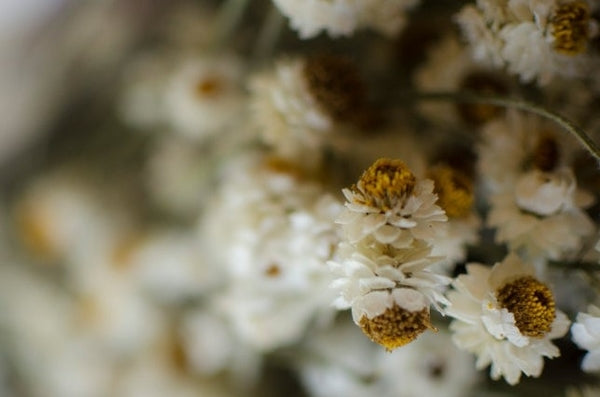 Also known as //
Everlasting daisy
Ammobium
Strawflower
Xerochrysum bracteatum
Diamond head daisy
We found these beauties via Gillian Bell Cake. Her sweet story behind
her love for the paper daisy enticed us to do a spotlight.
The flower is sort of like a regular daisy, but so extra.
The paper-like petals come in a verity of colours and shapes, and with so. many. names. 
Best of all, the flower is super durable and can easily withstand a day in
the spotlight without wilting or letting us down. 
These babies are as effortless as the Australian landscape they are native to.
We just love them as an alternative to a daisy. 
Gillian Bell Cake // I first encountered carpets of Australian paper daisies, that spread to
the horizon and beyond, in the early 1990s. I was in West Australia, on my own native
wildflower safari. It was spring, and spring is full of hope and beauty. Their naive elegance
and shining, star-like quality made them the perfect choice for this wedding cake where
the hillsides of the Northern Tablelands of New South Wales are sparkling with them this
spring. //
Jocelyn and Graham's Elegant Martha's Vineyard Wedding
Soil and Stem // Not paper daisies but we would love to see an
installation incorporating them in this way 
Running Wild Florals // Those colours 😍
Modern Cinco de Mayo Inspiration
Once Wed // This bouquet is 🙌🙌🙌 
 Passion Flower // Floral wear-ables are taking flower crowns to the next level
Cover photo: Etsy