HEADPIECE SPOTLIGHT // Hoxton Veil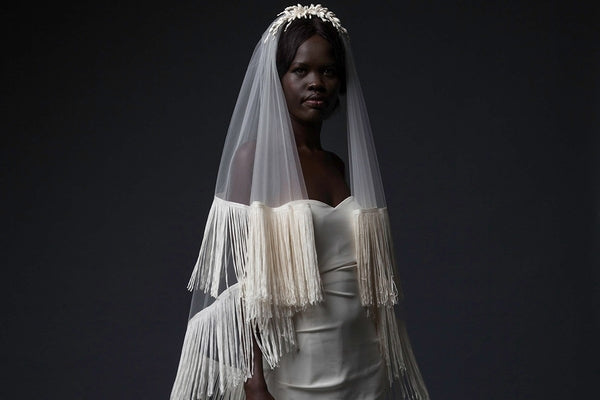 Fringe: Either you love it or you hate it.
Here at OTW we LOVE 
Silky satin looped tassels frame a soft nylon tulle.
A double-layered, circle-cut fingertip length veil.
A modern take on boho; fun and bold while also being clean and elegant.
Perfect for the bride that wants to make a statement, without the exes bling. 
And one thing's for sure: The Hoxton will make for some seriously amazing photos.
Pairs well with clean lines and wax headpieces.
Clean lines, minimal bling. We also love the Hoxton paired with lace. // Prea James
We love the touch of colour on this fringe decor. // Green Wedding Shoes
The Hoxton in all it's glory // Olivia the Wolf
After ceremony details // Etsy 
A modern take // Fame and Partners 
We love the fringe feel of this wisteria and chandelier ceiling // Konstantin Semenikhin

Moroccan Wedding Throw // Anthropology
The magic is in it's movements // Inga Vedyan 
Cover photo: Hoxton x Jacinta via Olivia the Wolf