WEDDING INSPO // 9 Reasons Why the Exit is the Best Photo of the Day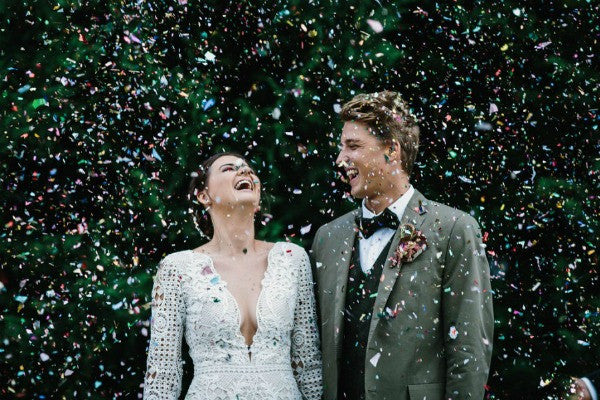 Sarah & John's Autumn wedding at Cupitt's Winery
With just days left in this old year (19 to be exact), we want to welcome the new year by saying
farewell to 2016 with some of the cutest ceremony exit scenes out there. 
Much like weddings, we want to welcome our new lives, with a grand exit of the old.
(It's not like much will change but any excuse to celebrate is a good one!) 
1) The pure childish joy of being showered with colourful confetti.
Bonus: This cool bride and groom's attire
Playful + Colorful Austin, Texas Wedding: Lucy + John
2) The unmistakable excitement on your faces. Bonus: Rose petals are classic and romantic.
3) The photos will never go out of style, black and white is always a classic!
Solange Franklin and Brian Reed Tie the Knot
4) It makes for some sweet photos!
Handmade North Melbourne Wedding
Carolyn & Andrew's Modern Dockside Wedding
5) You can be creative with what you throw! This couple used locally grown combretum pods.
BC brides can use lavender, herbs and other local blooms.
6) You don't even have to throw anything!
From smoke bombs to sparklers, mess-free alternatives are so in.
Whimsical Australian Playhouse Wedding: Kat + Graham
These cool kids used fiery letters as their send off: Nous Vous Pour La Vie. (Don't worry their wedding was in a desert) 
Summer Wedding in the Moroccan Desert: Tiffany & PJ
7) Make your own parade! Bonus: the most epic guide to your reception.
Magical Downtown Los Angeles Wedding: Tabitha + Gavin
8) You can go all out: whether its bubbles, smoke, flora or confetti: make it rain!
9) Match your wedding theme! Find more of this colour themed wedding here.