WEDDING INSPO // 5 Weird Wedding Hires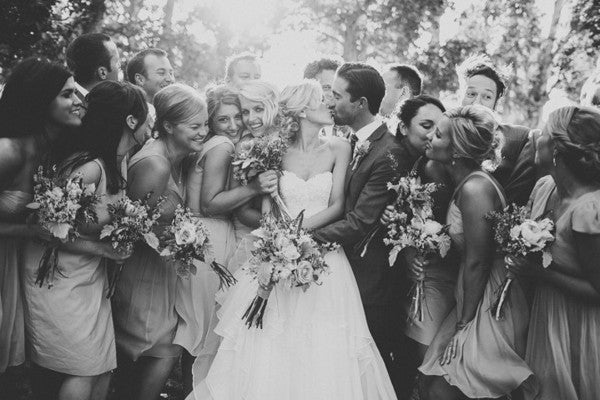 1) Wedding Vow Writer
You would think that if you didn't have the courage to write your own vows you might
go with the standard, "I, ___, take thee, ___, to be my wedded husband/wife,
to have and to hold, from this day forward, for better, for worse, for richer, for poorer,
in sickness and in health..." (The Knot), you know the ones.
But companies like Vow Muse pledge to write custom and unique wedding vows for
the bride or groom that doesn't know how to put their love into words.
Too good to be true? Maybe. 
Aren't the bride or groom but have with writers block just the same?
Some companies even do Maid-of-Honor and Best Man speeches for the big day. 
Best Tips Ever on How to Write Your Own Vows
2) Wedding Insurer
Just like you might insure your belongings or Heidi Klum might insure her 
legs
 (seriously), 
couples can now insure their wedding day too.
Starting at under $100 brides and grooms can get insurance on anything from the venue
to cancellations, weather, and even your rings and dress. 
Find everything you need to know about wedding insurance here. 
Afraid of Rain? Check Out These 29 Incredible Rainy Wedding Day Photos
3) Bridesmaid for Rent
It's just that. Bridesmaids For Hire is a company that specializes in anything from behind
the scene help, to day-of, by-your-side, pretend-to-be-your-long-lost-cousin help. 
They even have packages for bridesmaids crash courses and maid-of-honor planning
(Including speeches).
Lindsay and Neil's Casual Tofino Wedding
4) Wedding Guest for Rent
In places like Japan, Korea and India, brides and grooms can rent guests to attend their
wedding. "It all stems from an obsession with image cultural, and a pressure to impress. 
As a result, there are hundreds of companies who rent out wedding guests." (CBC)
A bride might even hire guests on the DL, worried that they may have less guests than
the groom or vice versa. 
You can even rent fake parents, fake bosses, fake secretaries,
and even fake mistresses (whaaat?).
Intimate Big Sur Beach Wedding
5) Marriage Proposal Planner
That's right. Unlike wedding planners that stick around until the big day, proposal
planners just stick around until the engagement.
The company The Heart Bandits, one of many proposal planners, promise to plan the
perfect proposal (say that 5 times fast) for you. They do anything from personal
proposals to standard and DIY packages. 
What's your take on these weird wedding jobs? Have any weird jobs of your own? 
Let us know in the comments!