HEADPIECE SPOTLIGHT // Gemma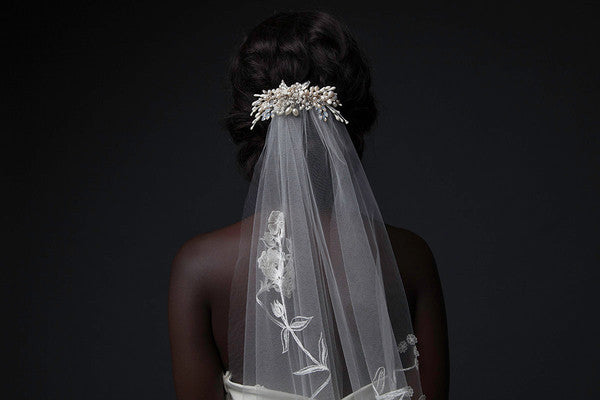 Oh, Gemma.
Wax blossoms sprout from an opal and pearl vine,
making this delicate piece modern enough for the real world bride. 
For the elegant bride that loves the slightest touches of detail:
textured fabrics, dazzling accessories, clean architecture
and the softest touch of blue.
The best part?
Shape it to any form (we love an S-shaped vine),
customize it without a comb, wear it any way you want.
Gemma does it all. 
Pairs well with Carol Hannah gowns
The Gemma in all it's glory
We love the idea of a sheer heel with delicate beading or lace // Florence
Don't steer away from gold or silver! The Gemma pairs well with both // via
Clean blues and creams of Vancouver // via
Open windows, glass details and a "I woke up like this" feel // via
Wear the Gemma with your hair up, in a half-do or to the side
Elegant, Modern, and just a touch of wild // via
 We love the way the light hits these seeds // via
Shop the Gemma here